For most homes, a flower bed is the first thing visitors see. It adds life and vibrancy to bland colors and cold materials. It catches the eye as people drive by.
Creating and maintaining a flower bed in the hot summer months can be tricky. If you're not careful, the beautiful bed you hoped for could turn into a wilted mess. There are all sorts of factors to consider, such as the amount of soil, position of the plants, the amount of water, etc.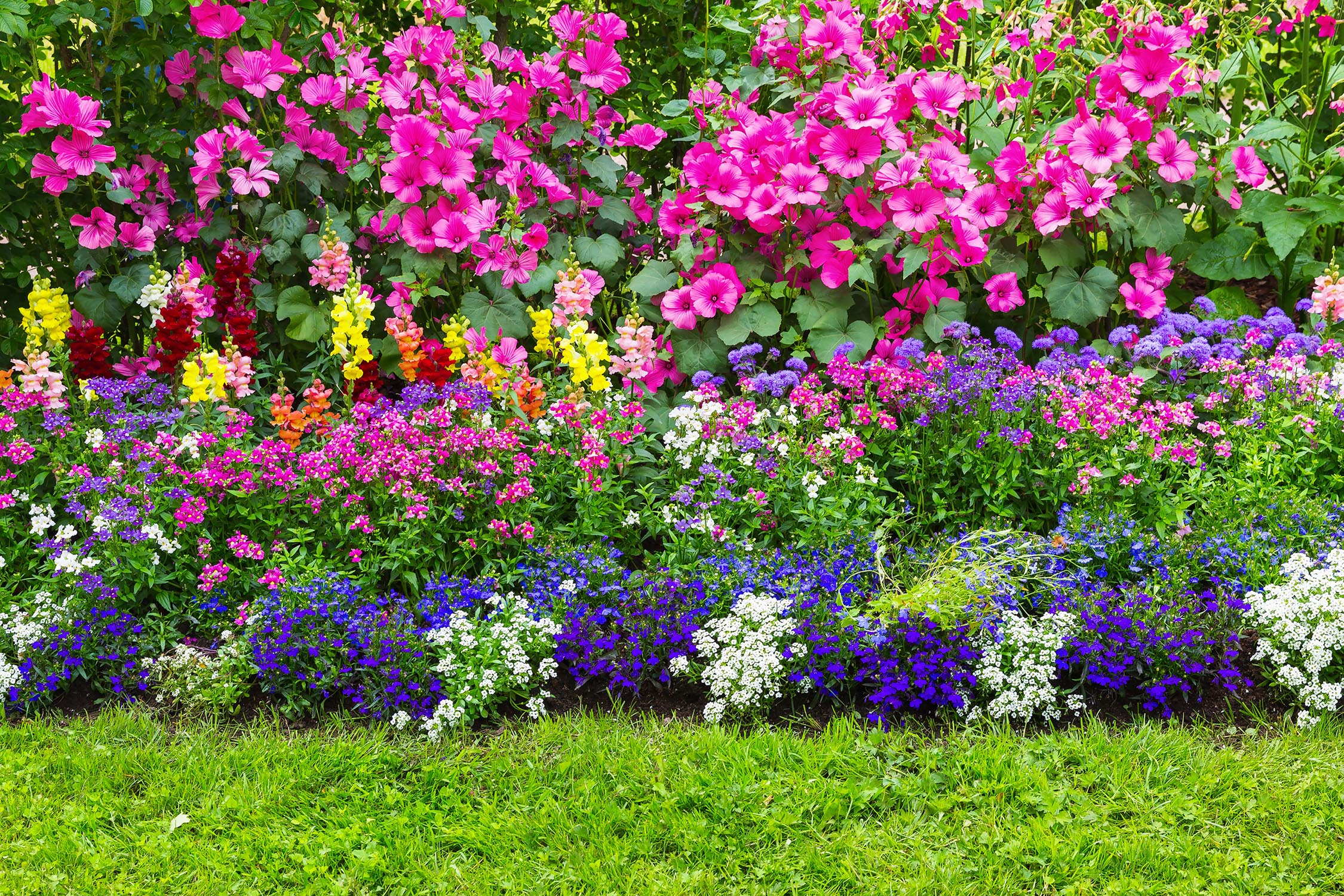 Petty's has had over six decades of experience in landscape and gardening. Through these years of experience, we've gathered a few tips on how to create a perfect flower bed:
Plan your flower bed with sun exposure in mind.
A beautiful flower bed starts before you ever purchase the flowers. You'll want to select a location that enhances your property at a difficulty level with which you're comfortable. Different plants thrive in different amounts of sun. Plants are measured by four amounts of desired sunlight: full sun, partial sun, partial shade, and full shade. You'll want to familiarize yourself with the sun exposure in the area where you're considering to plant. If the area you desire is in a location with a sun level you're not happy with, consider removing objects that create shade (such as tree branches), or create your own shade. There are a variety of sun canopies you can buy that protect your flowers.
Use the right amount of soil.
Minerals in the soil are a source of food for plants, but just like food for humans, there's a limit on what a plant can handle. There are many types of soil you can purchase, and even more options for add-ins, but the amount used for all of them is generally the same. Most annual flowers only need a 6-inch depth of soil. You can calculate the amount of soil you need for your entire bed at gardeners.com.
Don't just pick a flower because it's pretty.
Yes, you want flowers that compliment your property and look appealing but dig a little deeper in your selection. Consider what the flowers look like in full bloom. When will they bloom? Do they match your sun exposure? Will they work with your soil amount? Some flowers grow better in different locations. For instance, urban areas have lower relative humidity and are hotter. Consider if your environment would cultivate the plant you're considering.
Plant at an appropriate distance.
Most small flowers are perennials, meaning they only bloom in one season, year after year. Planting perennials too close together could cause poor airflow, resulting in disease. If they're too far apart, your garden will look lackluster and the soil won't be strengthened. We recommend planting small perennials at least 6-12 inches apart and 2-3 foot perennials at 12-18 inches apart.
Water deeply and evenly.
Watering does no good if it doesn't soak down to the roots. Watering slowly in the same area ensures the water is reaching the roots, but avoid drowning your plants. Hold off watering if rain is in the forecast. Petty's uses Pressure Regulated System (PRS) heads in their irrigation systems for watering flower beds and lawns. These heads provide an even distribution of water and, on average, save 6.06 gallons of water per minute (with 65 PSI and 16 GPM). Consider implementing a Petty's Irrigation System. Call us at 1-800-258-9184 for more information.
Petty's could create a perfect flower bed for you for FREE! Enter now to win Petty's Backyard Makeover! No cost to enter. Contest entry ends July 23rd, 2018. The winner announced July 30th, 2018.